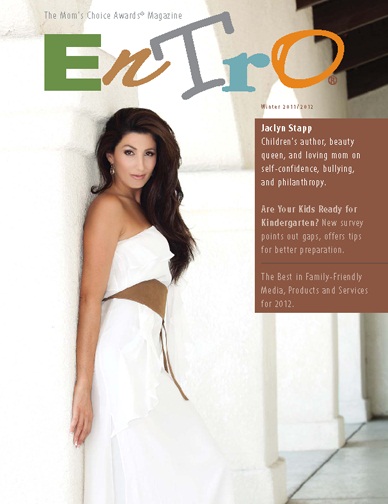 Check out Jaclyn Stapp as featured on the cover of Entro Magazine, the online outlet for Mom's Choice Award.
Wacky Jacky was voted among the best in family-friendly media by Mom's Choice Award in 2011!
Click the cover to read the feature!
Excerpt from: Multi-Cultural Author Celebrates Diversity
For every young girl who feels like an ugly
duckling and wishes she could become a swan,
there's a delightful children's book that
addresses the issue of difference with sensitivity,
humor and wisdom. Wacky Jacky: The True
Story of an Unlikely Beauty Queen is an
autobiographical tale based on author Jaclyn
Stapp's experiences growing up.
Looking at her today, no one would imagine
that she had once been the target of bullying.
But as a child, Jaclyn was often mistaken for a
boy and became known at school as "Wacky
Jacky" for her lanky frame, unruly hair, and
Middle Eastern heritage. Teased unmercifully
by her classmates—she ate pita bread
sandwiches instead of PB&Js—the young girl
finally took control of her destiny by entering a
local beauty pageant. In so doing, she learned
some important lessons about herself and won
quite a prize—not for beauty, but for
something much more valuable.
Click here to read the full feature: http://www.instantflipbook.com/1/1660381756/